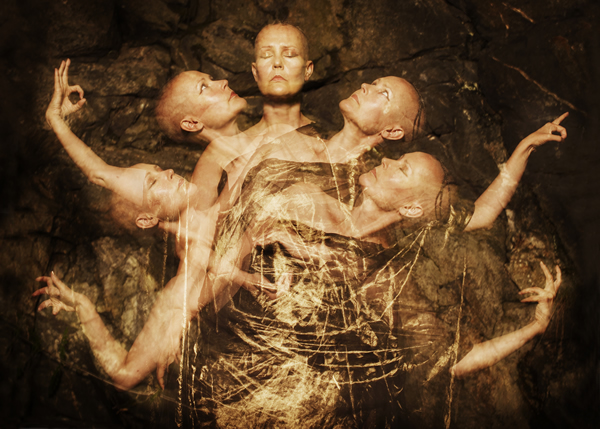 Virpi Pahkinen
Virpi Pahkinen, one of the Scandinavia´s most successful solo dancers, studied classical music and figure skating before concentrating on dance. As a teenager growing up in Jyväskylä in central Finland, she practised figure skating on a nearby lake.
"When the lake was free of snow I could dance at night alone under the full moon… The lake was black and shiny. It was freezing cold but magical, like one was at home in the universe," Pahkinen said over a cup of coffee in a Stockholm café.
Virpi Pahkinen still seems in harmony with the world. This Stockholm-based dancer and choreographer is not concerned with whether people think she is Swedish or Finnish, or whether her work is interpreted in one way or another.
"I danced outside in Barcelona a few years ago and one old lady who saw it told me it was holy, while a young man thought I was inspired by science fiction comic strips. Everybody comes at it from different reference points."
While I'm writing this text, Pahkinen plans to perform at Dansens Hus (Stockholm´s main dance venue) and take her show on the road to China, Ecuador, Vietnam and Europe.
In November 2003, I caught a noon performance of Pahkinen at a dance museum located just across the street from Sweden´s Royal Opera. Moving gracefully to ritual funeral music from Indonesia, the dancer´s slender limbs unfolded like the petals of an exotic orchid stretching to the sun. Her "Kalagnica" show was totally sold-out, as had been all nine previous performances.
Pahkinen´s dance seemed to me like a visual prayer or meditation. What is the source of the obvious Asian references?
"The Far East was an influence in my choreography long before I went to Asia. Part of the reason is that my grandfather went to India, and some of the Sanskrit remained within him, and I am now translating his genetic information into dance."
Pahkinen collaborates in several of her works with Roger Ludvigsen, a Sami composer from Northern Norway who makes electronic minimalistic music, and who plays in the band of Norwegian –Sami vocalist Mari Boine.
"He has a contemporary shamanistic approach. If you mix all of these things together, you could say it is a shamanistic Asian clubbing music, while I am making archeological diggings and trying to reach new planets."
Pahkinen punctuates this spacey comment with a glint in her eye and a gentle laugh. This is a dancer who seems to put her soul into her art, trying to connect heaven and earth, life and death.
But that doesn´t mean that she has to take herself too seriously.
Asked about her hairstyle – a monk-like shaved head, bare expect for a few long braids,
Virpi tells a story about how a young hip-hopper came walking towards her after a performance in Houston, Texas and asked: "Are you from the future?"
By David Partal/ NORDIC REACH
Photo: José Figueroa