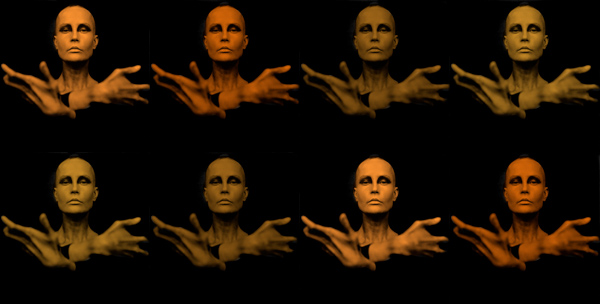 BIOGRAPHY
Virpi Pahkinen has been successfully touring the world in her dual role as choreographer and solo dancer. Pahkinen's performances has met critical acclaim in over 45 countries including USA, Australia, Mexico, South Africa and Lebanon.
Pahkinen has also created works for several companies such as Ballet Poznanski, Vietnamese National Opera Ballet, North 59°, The Young Dance Company and Finnish Opera Ballet among others.
Apart from making performances for the stage, she has choreographed and appeared in numbers of dances film for wide screen. Atom by Atom - an existential thriller filmed on the remarkable volcanic mountains of Lanzarote and M de Mafra which was shot at the Palácio Nacional de Mafra Library in Portugal. The work Bardo was made as a TV-production for the Swedish Television. The film Bardo 010 was awarded the Golden Antenna in Bulgaria 1998, and has been broadcasted in Singapore, Japan, The Netherlands and Scandinavia. Her latest dance films Arbor and Sahara premiered in 2013 at the Swedish Television and has since then been presented on several international dance films festivals.
Pahkinen's musicality and her interest in light as architecture has attracted artists of the highest quality; the lighting designer Jens Sethzman, the composer Akemi Ishijima and live-musicians such as Jon Rose (violin) and Sussan Deyhim (vocals).
In 2001, at the International Solo Dance Theatre Festival in Stuttgart, Virpi Pahkinen won the 1st Choreography Prize with her solo Prayer of the Scorpio. In 2002 she was awarded Carina Ari Foundation Gold Medal.
In 1996, Pahkinen was awarded Finland's Culture Prize for young artists and Svenska Dagbladet Opera Prize.
The Swedish Section of International Association of Theatre Critics awarded the 2009 Dance Prize with the motivation: "Virpi Pahkinen is one of Swedish dance's most unique artists. In her solo work she creates her own universe through her vibrant musicality and sense of form. Her distinct and extremely flexible gestalt seems at times to have crawled out from the dry waves of vast desert, at other times to be a transparent membrane for cosmic power."
Pahkinen has taken part as a dancer in several of the famous theatre director Ingmar Bergman's productions at the Royal Dramatic Theatre in Stockholm: The Bacchae, Peer Gynt, Goldberg Variations, Space and Time, A Winter's Tale and Ghostsonata.
In 2009 Atena Kustannus published Pahkinen's debut book Käärmeensyöjá (Snake-eater). The Daily Newspaper, Keskisuomalainen wrote: "The wild freedom of Snake-eater's details and the poetic visions of its prose are a source of both power and levity." In 2013 the book was published by MBM Förlag in Sweden.
In 2011 Pahkinen was awarded the Swedish royal medal Litteris et Artibus, for her outstanding artistic contributions as a dancer and choreographer. Recently she was awarded the City of Stockholm's Cullberg Prize 2014..
Virpi Pahkinen was born in Finland. She studied piano at the Conservatory in Helsinki, and trained on the choreographer course at the University College of Dance in Stockholm in 1989-1992.
Virpi Pahkinen - By David Partal/ NORDIC REACH
Virpi Pahkinen, one of the Scandinavia´s most successful solo dancers, studied classical music and figure skating before concentrating on dance. As a teenager growing up in Jyväskylä in central Finland, she practised figure skating on a nearby lake.
"When the lake was free of snow I could dance at night alone under the full moon… The lake was black and shiny. It was freezing cold but magical, like one was at home in the universe," Pahkinen said over a cup of coffee in a Stockholm café.
Virpi Pahkinen still seems in harmony with the world. This Stockholm-based dancer and choreographer is not concerned with whether people think she is Swedish or Finnish, or whether her work is interpreted in one way or another.
"I danced outside in Barcelona a few years ago and one old lady who saw it told me it was holy, while a young man thought I was inspired by science fiction comic strips. Everybody comes at it from different reference points."
While I'm writing this text, Pahkinen plans to perform at Dansens Hus (Stockholm´s main dance venue) and take her show on the road to China, Ecuador, Vietnam and Europe.
In November 2003, I caught a noon performance of Pahkinen at a dance museum located just across the street from Sweden´s Royal Opera. Moving gracefully to ritual funeral music from Indonesia, the dancer´s slender limbs unfolded like the petals of an exotic orchid stretching to the sun. Her "Kalagnica" show was totally sold-out, as had been all nine previous performances.
Pahkinen´s dance seemed to me like a visual prayer or meditation. What is the source of the obvious Asian references?
"The Far East was an influence in my choreography long before I went to Asia. Part of the reason is that my grandfather went to India, and some of the Sanskrit remained within him, and I am now translating his genetic information into dance."
Pahkinen collaborates in several of her works with Roger Ludvigsen, a Sami composer from Northern Norway who makes electronic minimalistic music, and who plays in the band of Norwegian –Sami vocalist Mari Boine.
"He has a contemporary shamanistic approach. If you mix all of these things together, you could say it is a shamanistic Asian clubbing music, while I am making archeological diggings and trying to reach new planets."
Pahkinen punctuates this spacey comment with a glint in her eye and a gentle laugh. This is a dancer who seems to put her soul into her art, trying to connect heaven and earth, life and death.
But that doesn´t mean that she has to take herself too seriously.
Asked about her hairstyle – a monk-like shaved head, bare expect for a few long braids,
Virpi tells a story about how a young hip-hopper came walking towards her after a performance in Houston, Texas and asked: "Are you from the future?"
By David Partal/ NORDIC REACH