AAJEJ
CHOREOGRAPHER Virpi Pahkinen
DANCERS  Pape Ibrahima Kaolack Ndiaye, Virpi Pahkinen,
Oskar Landström, Henrietta Wallberg
MUSIC Jonas Sjöblom
LIGHT DESIGN Miriam Helleday
COSTUMES Helene Thoresell
MUSICIANS ON STAGE Jonas Sjöblom, Virpi Pahkinen
Lenght: 60 min.
Première 29th September, 2010, Dansens Hus, big stage
"An enlightened yogi? A goddess of creation? After all, In Indian cosmology it was the dance of Shiva that gave birth to the world.
The introduction to "Aajej" is everything one might expect. It is impressively beautiful. It is Virpi Pahkinen."
"Young, newly qualified dancers Oskar Landström and Henrietta Wallberg smoothly make Pahkinen's language of movement their own without losing their own uniqueness. The fourth dancer of the quartet, the virtuoso, extremely muscular, charismatic Senegalese dancer Pape Ibrahima Ndiaye, is a completely different story. He dances in an entirely different tradition – African. His growling wild animal dance makes a sharp contrast to Virpi Pahkinen's aristocratic warrior."
      Örjan Abrahamsson, Dagens Nyheter 1/10 2010

"The bodies sometimes become flexible wind catchers, sometime figures which offer each other resistance in the battle of elements."
      Anna Ångström, Svenska Dagbladet 1/10 2010
"The spirits of air she conjures up at Dansens hus give us all the oxygen we could desire. Four dancers and musician Jonas Sjöblom make it blow everything from a gentle breeze to a threatening storm. Aajej is the name of the strong North African whirlwind, one of the flows of air which has inspired Virpi Pahkinen this time." 
      Lis Hellström Sveningson, Göteborgs Posten 3/10 2010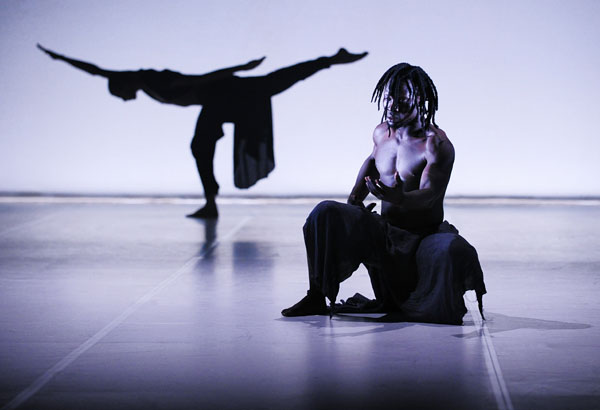 Wind-winning Virpi steps
"Kaolack is just as strong a soloist as Pahkinen but the choreography allows all the forms of expression to come tastefully together so that when Pahkinen herself sits down at the piano and brings Western cultural heritage into her magnificent dance show she succeeds in drawing that multicultural map of art that so many dream of – without being over-explicit, stereotypical or strained.
The work, which has Miriam Helleday to thank for its mystically elegant and architectural light design is simultaneously ragingly beautiful and as sublime as a summer breeze."
      Cecilia Djurberg, Nummer.se 1/10 2010
Photo: José Figueroa