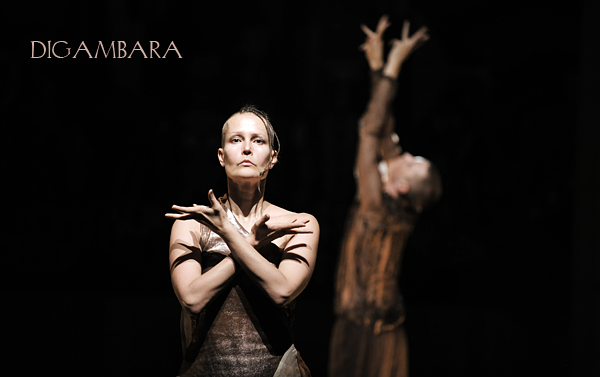 DIGAMBARA
CHOREOGRAPER Virpi Pahkinen
DANCERS Virpi Pahkinen, Mugiyono Kasido and Oskar Landström
MUSIC Luis Hernan Cortés Maya
LIGHING DESIGN Magnus Pettersson
COSTUMES Etik Fadjur Wati
Length: 25 min.

World Premiere: 24th September 2011
Jogja International Performing Arts Festival, Jogjakarta, Indonesia
Also performed at The Dance Museum 4-13th October 2011, Stockholm, Sweden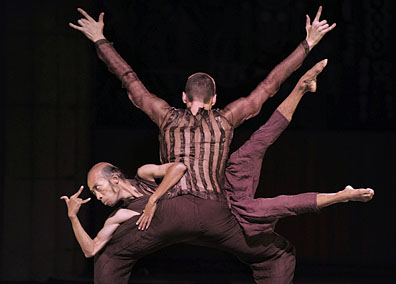 "Pahkinen's dance has a touching motion which often utilize a small stage space meticulously to its maximum...
One is reminded of how resistant a strong choreographic signature is".
     Expressen, Sweden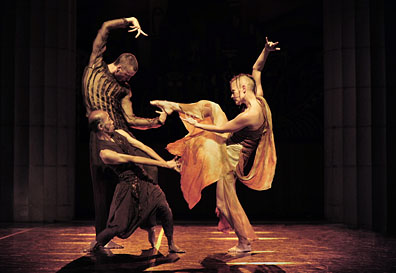 "The ritual feature is strongly present in aspiring movements, like the feeling of dance in its spatiality catches forces we cannot touch...
Pahkinen herself has an astonishing ability to be both strong and elusive... It is beautiful and hopeful."
     Svenska Dagbladet, Sweden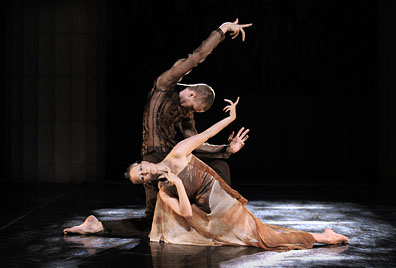 "The enormous, powerfully explosive figure of Landström next to the fragile little Kasido, where every movement is exquisitely precise and intensely effective. Youth versus wisdom. Pahkinen dances the unifying link in this three-way drama.
As always Pahkinen is dancing in her own wondrous universe, where the choreography turns into a mystical ceremony which connects dance, humanity and the world's origin."
     Dagens Nyheter, Sweden
"The dancers sensitivity makes the movements talk between their bodies, although they are very different they reach a remarkable unity."
     Dansportalen, Sweden
Photo: José Figueroa